Originally appeared in Seeking Alpha. Apr. 28, 2021 8:45 AM ET MariMed Inc. (MRMD) 
Summary
MariMed is a vertically integrated multi state cannabis operator. CEO Bob Fireman joins us to discuss why he thinks they're undervalued.
Giving guidance, changing messaging and cleaning up balance sheet from previous debt.
Full legalization and uplisting closer but still far off – that's the game changing moment.
Protecting the creators of the industry, not wanting to become one of the bad guys.


Multi-state cannabis operator MariMed (OTCQX:MRMD) CEO Bob Fireman joins us to discuss why he thinks MRMD is undervalued and what they're doing to foster organic growth and what has them confident enough to issue guidance. Thoughts on the broader US cannabis landscape and how to protect the creators of the industry.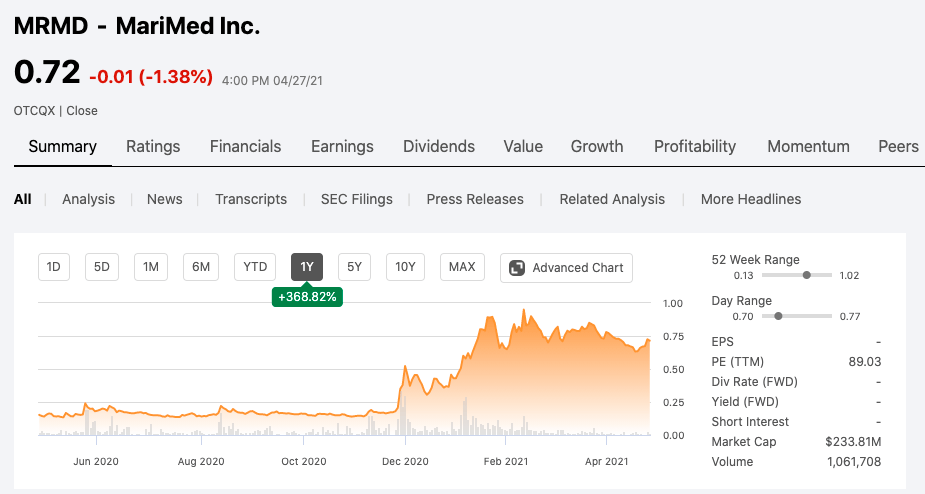 MariMed has been together 10 years; Bob had a company called Sky Vegetables – growing hydropoinic vegetables. Then got into cannabis in California, helped draft legislation on the east coast. Formed MariMed. Built business on real estate side.
Why MRMD is undervalued: messaging wasn't clear. How that's changing. Bet on hemp/CBD in 2018 and when that collapsed lost their position to the big 5 MSOs. Moved past hemp and now focused on core 5-6 markets. License consolidation strategy. 2020 was the year of transformation. Now giving guidance for 2021, set for growth. Cleaning up balance sheet. Deal with Hadron Capital.
Deal with GenCanna, whose bankruptcy is still pending. Had to pay off debt, hopefully they will get it back but not yet determined. Now have more capital and are cash flow positive. To make guidance numbers is without acquisitions; confident & conservative.
Hopeful on some onerous regulations like 280E going away, but full legalization likely still far off. Anyone that thinks different hasn't been through the past 10 years in the cannabis industry. When companies can get uplisted will be the big change. Up to existing companies to improve the industry along the way. Don't want to become one of the bad guys.
Editor's Note: This article covers one or more microcap stocks. Please be aware of the risks associated with these stocks.