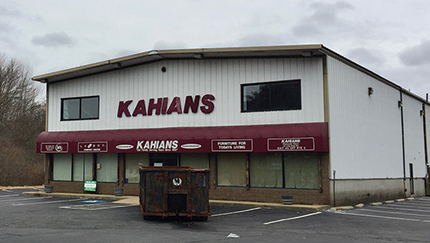 Middleborough, MA MariMed Inc. and its wholly owned subsidiary Hartwell Realty LLC, on January 25 received from the town a special permit to commence build-out of the 8,000 s/f building at 29 Harding St. formerly Kahian's Furniture, that MariMed purchased for $1.5 million in August 2017. MariMed will immediately begin the $500,000 renovation into a secure, medical cannabis dispensary, which is expected to serve thousands of state-registered medical cannabis patients.
The general contractor is Majestic Construction, Inc. and design was provided by Ed Nunes, partner at Nunes Trabucco Architects.
"We are grateful to Middleborough's Selectmen for their support of this facility which will help thousands of patients who have been waiting for local legal medical cannabis to relieve symptoms and side effects of cancer, epilepsy, and many other medical conditions," said Robert Fireman, CEO of MariMed.
The facility will be leased to ARL Healthcare, which is the Mass. Registered Marijuana Dispensary (RMD) licensee for the future dispensary.  MariMed expects to complete renovations in March and the dispensary is expected to open after successful final inspection by the state and town of Middleborough.  ARL Healthcare has engaged MariMed to provide management services for the operation of the dispensary, which is expected to create approximately 10 full-time and 10 part-time jobs.
All products retailing in the facility will be cultivated and/or produced off-site at cultivation facilities operated by ARL Healthcare with management services by MariMed.
Fireman said, "The dispensary will be safe and secure, with a welcoming atmosphere where knowledgeable, friendly staff provide private patient education and consultations and efficient service to access the highest quality of pure, precision dosed medical cannabis products.  With the feel of an ultra-modern bakery shop, gleaming display cases will showcase a wide variety of products and formulations, such as tinctures, salves, tablets, fruit chews, bud, dissolvable films, and oils, to ensure patients can conveniently administer medication via their preferred method and receive predictable relief."
ARL is a licensed distributor of MariMed's Kalm Fusionand Betty's Eddies precision-dosed branded products in both THC and CBD formulations, and MariMed's licensed Tikun Olam clinically proven effective premium cannabis products, including the world-renowned Avidekel high-CBD strain.
Read the full article here.